Dream on, Donald Trump, and Steven Tyler will sue you!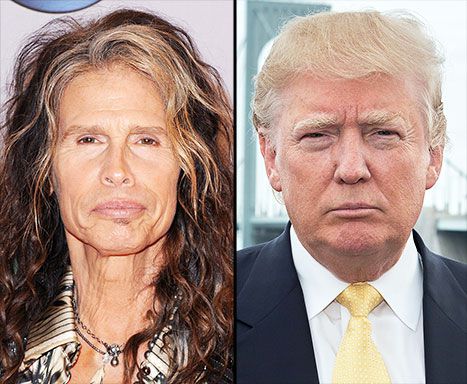 Steven Tyler is going to sue Donald Trump if the second one continues using a song of the first one. Beautiful composition "Dream On" is used by Trump during his campaign rallies.
Donald Trump received a cease-and-desist letter from the 67-year-old performer. The Hollywood Reporter informs that the rocker had already warned the Republican presidential candidate. The 69-year-old man was warned by Tyler's lawyer on August 21. Then he had a rally in Mobile (Alabama).
The candidate's camp played "Dream On" at his rally held in Georgia. The issue happened on October 10. Tyler perceives Trump's usage of Aerosmith's song as his endorsing of the candidate.
It is written in the letter that Trump for President was not permitted to use nor "Dream On", neither any other music of the band. Such move makes people believe that Tyler has connection to the candidates presidential bid.
The rocker was surprised when he visited Donald's debate in August. Trump was also surprised when he attended a concert of Aerosmith. He wrote about it on Twitter. According to him, there is no anything better than this band. Trump admired Tyler's enormous and fantastic energy.
2015-10-12