Demi Moore in a Bikini on the Family Photo with Tallulah and Scout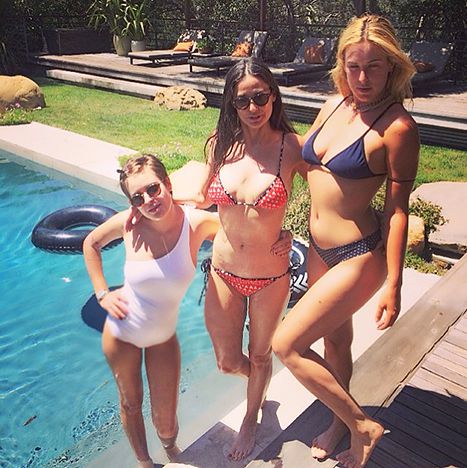 Demi Moore is officially challenging nature. The mother of three children, who is 52 years old, was posing in a bikini! The actress was impeccable standing near to Scout Willis and Tallulah, her daughters. The picture was uploaded on Instagram on June 21.
Tallulah appreciated her prominent mother for being with her kids on Father's Day and wrote that the snap was taken when their dad could not be with them.
The daughters of Bruce Willis have gorgeous outlook! Tallulah, 21, was wearing a chick one piece. Meanwhile, her 23-year-old sister Scout put on a tiny blue bikini. Their 26-year-old sister Rumer was not present at the picture.
The G.I. Jane alum is on a vegan diet and practices yoga. These things help her to maintain such a gorgeous figure. Three years ago the star shared with Harper's Bazaar that she has always called the relationship with her body "a love-hate".
During her interview with Amanda de Cadenet, the celebrity opened up about the time when she was struggling with her weight. Feeling that she could not eat things she wanted to is not one of the most pleasant ones, just as feeling that she could not get her body to do what she wanted it to do. That is why the star says she is at the greatest odds with her body. Usually the actress feels that her body betrays her. Whenever the star does not perceive her body as her enemy, she feels peace. Then Moore looks at everything her body has done to her: three wonderful daughters, a career of an actress and being strong.
The actress went on saying that it is not possible to tear your body apart while you are looking at it in the mirror. The star considers that after looking at your body, you must thank it for standing by you no matter what is happening.
2015-06-24