Courtney Love asks Kurt Cobain on Instagram what he was thinking about while committing Suicide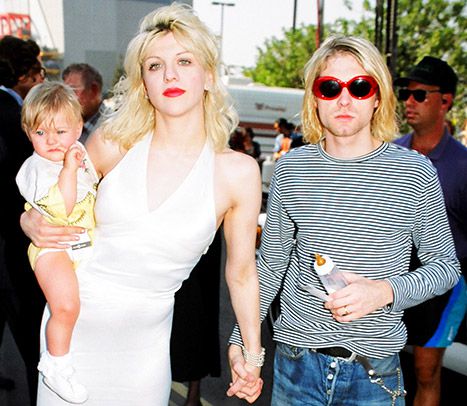 Over 20 years have passed after the tragic suicide of Kurt Cobain, though Courtney Love still has a lot of unanswered questions. His wife asked one of them on Instagram. This happened on August 22. Courtney wrote a heart-rending message to her husband about their daughter. Frances Bean is 23 years old now.
51-year-old wife of the Nirvana rocker made a beautiful throwback snap with the help of the picture-shaping application. There is Kurt, Courtney and their daughter, a baby at that time, on the picture. The happy family is lounging in bed. Frances Bean has not even turned 2 when the world-wide famous musician died. He was 27 years old then. The picture dates back to December 1992. It was printed in the Spin magazine.
The Hole star wrote that the photo makes her feel so sad. She turned to Kurt and wrote him that their baby is a grown up now. Then she asked her late husband what on earth he was thinking about. Courtney definitely misses her rocker.
Love had gone through a lot after Cobain's death. She suffered after the launch of HBO's documentary film. The film debuted this year. It was named Kurt Cobain: Montage of Heck. The idea of the film came to Love's mind. Later she told Brett Morgen, the director, that watching the film "f**ked up" her.
Cobain's widow recollected the sexual relationship which is the heart of a good marriage, according to her. Courtney says that it nearly rendered other intimacies without any sense. Recollecting how much she loved Kurt made her think of a few other men she has been in love with. Love decided not to tell their names. The thing is that the "Celebrity Skin" singer puts a question. She asks if she should have married them. And her answer is definitely "no".
The star adds that no one else was as funny as Kurt was. She has never met somebody so compatible. All this can be seen in the film about Cobain. Courtney confessed that she does not have any boyfriend at the moment. The film about her husband made 51-year-old Love truly evaluate that. The songstress does not want any kind of relationship, because she loves Kurt and always will.
2015-08-25