Courteney Cox shows off Bikini Body on Vacation with Future Husband Johnny McDaid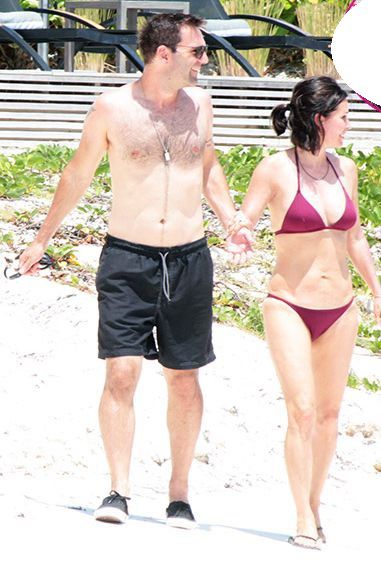 Courtney Cox showed off her stunning bikini body during a vacation with her fiancé Johnny McDaid on May 14. The couple spent it in Cancun, Mexico.
The 50-year-old age-defying star and Cougar Town alum was wearing an itty-bitty maroon string bikini. Her future husband showed off simple black board shorts.
The actress is looking forward to wed the Snow Patrol musician. The exciting emotions surround their marriage effect even the Just Before I Go director's daughter Coco Arquette.
Last month the best friend of Jennifer Aniston gave an interview to Ellen DeGeneres. She said that her daughter, 10, wants to plan the wedding with David Arquette, the ex-husband of the star. The kid is very excited about her mom's marriage. The actress was going to hire a wedding planner, but her 10-year-old daughter wants to do everything.
The Friends alum joked that she considers it to be weird that her daughter wants to be the maid of honour. She also wants to be the flower girl and all the bridesmaids. As you can see, the child is really excited about the wedding.
McDais and Cox announced the news about their engagement with the help of Tweeter last year in June. It was adorable when they tweeted "I am engaged to her!" and "I am engaged to him!"
2015-05-18