Compare Heidi Klum With and Without her Makeup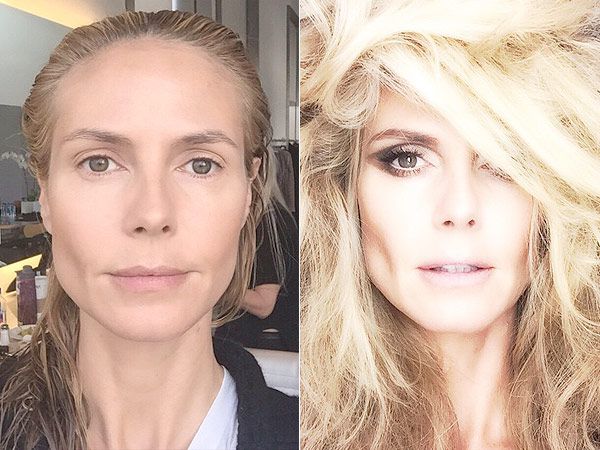 Heidi Klum is not ashamed of her natural beauty. She promised to show the world her real outlook without any makeup before a photo shoot on April 14. The 41-year-old supermodel uploaded a picture of her with wet hair. It was slicked back in a ponytail. The veteran of the catwalk had no makeup.
The supermodel has four kids. She showed her almost perfect skin to 1.6 million of her Instagram followers. Heidi captioned the image "before".
It is not surprising that Klums has a dramatically different outlook in the after shot. All in all, she is always beautiful! The "after" image shows her with edgy smoky eye and light pink lipstick by Lindy Hay and wildly teased hair by Brent Lawler.
Klum has been in the industry for 23 years already. She revealed not long ago her methods of handling the aging. The star shared with Style.com that when she looks into the mirror she really feels that she is in her 40s. She does not really see the difference between 30s and 40s since she still feels super-energetic. Klum noted that she can't stand different comparisons, but added that 40s are 40s, 30s are 30s and 20s are 20s. The celebrity assured she feels happy in her skin.
2015-04-16