Clinton Encounters Children during Jimmy Kimmel Live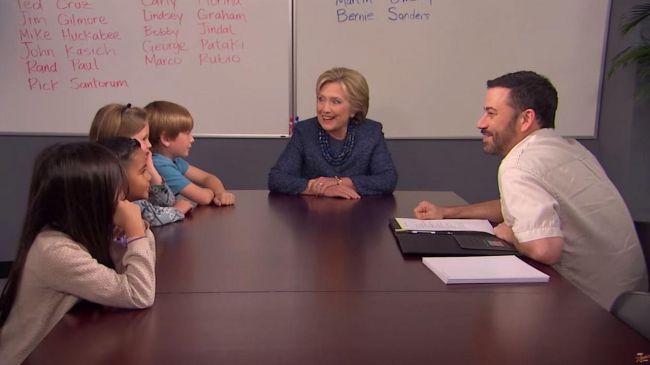 Democratic candidates show as much skills of socializing with children as the Republicans do. It has recently been proven by a raillery visit of Hillary Clinton to Jimmy Kimmel's cosy show. The young guests of the event were offered a rather serious discussion point – the future of the White House with a female in the Oval Office.
Gender division certainly added some spice into the conversation. Naturally, the engaged girls turned out to be ardent adherents of a woman president. Boys had their own argument against the idea, implying that all the innovations in the life of the country will be limited with design issues.
The kids even shared their views on the items to be added into campaign, which included provision of all the minors with free of charge "bread and circuses" equivalents. Mrs. Clinton tried to listen to everyone and make notes on the important panel discussion. What is even more interesting is what the opposite party will have to say regarding the "free stuff" remark written by the aspiring Democratic candidate.
2015-11-10