Cindy Crawford's Family pose Post-Swim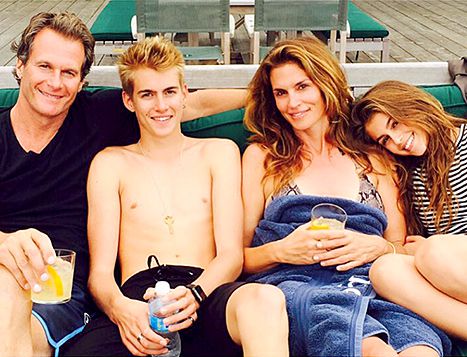 Instagram proves that Cindy Crawford is having a really lovely family vacay. Therefore, it is normal that she wishes to upload a photo of Kaia, her daughter, Presley, her son and Rande Gerbe, her husband. By the way, her family looks really stunning, see pictures!
The picture was uploaded on July 21. The family spent their time at the Gerber Point Lodge (Canada). The 49-year-old star is smiling on the picture. She put on a snakeskin bathing suit and partially hid it under a towel. Her 13-year-old daughter is wearing a stripped T-shirt. Kaia is sheltering on her mom's shoulder. Crawford's 16-year-old son is sitting sandwiched between his parents. He is wearing swim trunks and showing a little bit shy grin. The 53-year-old Gerber is situated on the left. He is having a handsome outlook in shorts and a T-shirt. Crawford captioned the pic with a simple heart.
2015-07-23