Casey Wilson Shows her Baby Bump Wearing a Tight Navy Blue Dress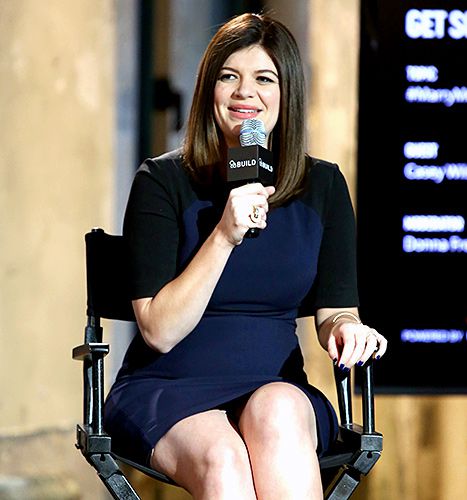 Casey Wilson shows her teeny baby bump!
Casey Wilson revealed her tiny pregnancy bump. She was dressed up in a blue gown bearing against her body. This outfit underlined all of her body curves. It happened at the AOL BUILD Speaker Series this Monday in New York City.
The 34-year-old star of Marry Me put on the tight fit navy mini for the chat. The dress had contrasting black sleeves. The actress wore ankle-strap heels. Thankfully to her outfit her only-starting-to-blossom belly was clearly seen. The actress put on minimal make-up, left her hair straight, and did a matching midnight blue manicure which completed her outlook.
The star and her husband, showrunner David Caspe announced in November 2014 that Wilson is pregnant with her first baby. The announcement was made six months after their marriage. In her usual hilarious manner, the actress explained on the Today show this Monday that her pregnancy has not been as smooth as she would like it to be.
Her husband said that a lot of women are glowing while being pregnant, but his wife is not one of them. The Happy Endings actress told that her husband meant it as a compliment. She went on, explaining that her pregnancy has been quite rough. He also said that she was happy to be there.
Wilson is pregnant with a boy. She confessed that she and her son had a rocky start, but they will cope with that. She continued adding that he is in a lot of trouble right now.
2015-01-14