Blonde Heads of Jared Leto and Kim Kardashian showed up at the Same Event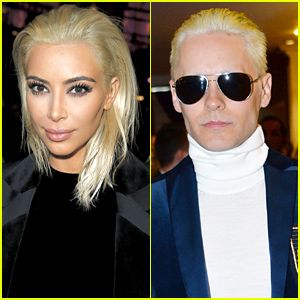 Blonds Attack! Kim Kardashian was seen with blonde locks at the Balmain fashion event in Paris this Thursday. Jared Leto kept pace with her since he showed up his bright white-blonde hair only 72 hours after he made a new haircut. We still cannot forget his long ombre locks. Was it a plot that the stars came with their new hairstyles at the same event?
The 43-year-old Oscar-winning star was dressed in a stylish blue velvet blaze, white turtleneck and a comfortable pair of snow boots. There are suspicions that his hair is not a new style, but the first step in the series of colourings for his character The Joker in the upcoming film Suicide Squad. Probably the natural brunette had to bleach his locks firstly for achieving the famous green shade of the villain's hair.
Jared Leto is not letting on one way or the other. He has already had blonde hair earlier, as in his Fight Club period. The My So-Called Life star uploaded a car selfie on Instagram which was captioned "#".
2015-03-06