Blake Shelton is Sad about Joey Feek's Cancer Fight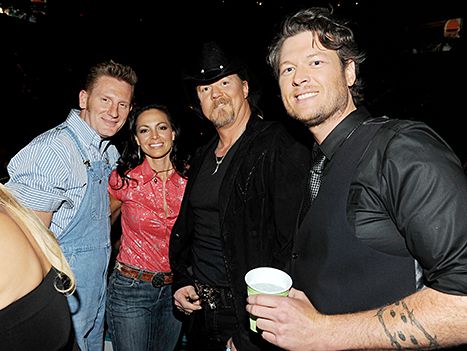 In his interview with Entertainment Tonight on November 10, Blake Shelton opened up about cancer battle of Joey Feek.
He considers the courage that the family has shown to be inspirational. The 39-year-old Voice coach thinks it is sad and special.
40-year-old Joey is suffering from Stage IV cervical cancer. The disease was found out last year. The singer is currently in hospice. The treatment was discontinued. Rory Feek, her husband and bandmate updated information about the star's condition this Monday.
The 39-year-old man wrote that it happens that there are not enough doctors, surgeries, chemotherapies or prayers. "Enough" is a word that everyone hoped not to ever say.
The couple got married 13 years ago. Their band appeared 5 years ago. Joey and Rory have a 21-months-old daughter. Her name is Indiana. Rory is father to Hopie and Heidi, his daughters from a previous relationship.
2015-11-12