Bill Cosby Gets Standing Ovation at First Show since November during a Protest Outside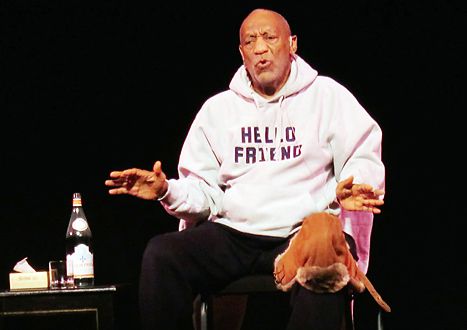 Bill Cosby was wearing a sweater with words "Hello Friend" on it when he appeared on the scene in Kitchener, Ontario this Wednesday. In comparison with greeting of his Canadian public, which he received earlier that night, it was a warm gesture.
A group of demonstrators stationed themselves outside the location. The AP reveals the reason of the demonstration: the protesters were not satisfied with the comedian's first performance in November. The AP also reports that the protesters were shaming people who came to see the performance. They carried signs with words "rape is no joke" and shouted at people entering the theatre.
The 77-year-old comedian made his stand-up show after being accused in raping, dragging or sexual assaulting by more than twenty women. His lawyer has denied the claims as women continue to accuse Cosby.
The AP says that the 2,000-seat place of the show was almost two-thirds full after some people decided to boycott the performance. The show was one of the three scheduled in Ontario. Besides, ten performances from Cosby's North American tour were cancelled.
Wednesday's public gave the actor a standing ovation after his performance. Cosby left the stage admitting that he had a great time.
2015-01-09