Bibletime with Jill Dugga'rs son in the Centre of Josh Duggar Scandal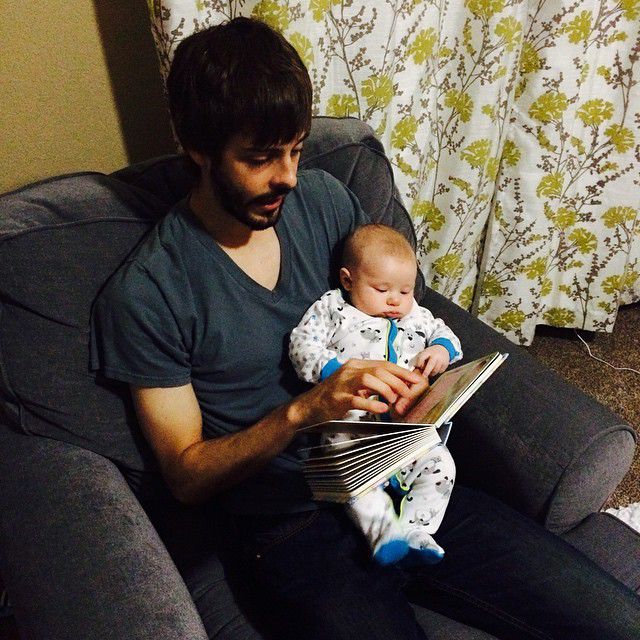 Jill Dillard uploaded a picture of Israel, who is already 2 months old. The boy is snuggling to his father Derick Dillard for a bedtime story. As we see, the little guy is starting his religious education already!
The reality television star wrote on Instagram under the photo that it was "bibletime" with dad. The peaceful photo shows us Israel wearing a blue and white babygro. Israel is looking completely transfixed with the bedtime story.
It was found out not long ago that Josh Duggar has molested 5 young girls. The girls were only 14 years old. There are Jill and Jessa Duggar, his sisters, among the victims.
It's been hard time in the Duggar family. The sisters stepped away from the social media. They chose to speak about the situation with Fox News' Megyn Kelly sometime earlier in June. Though, now the sisters are slowly stepping back to the public life.
The happy mom uploaded one more photo last Sunday. The picture marked birthday of little Israel. As to Jessa, she shared 3 pictures on Instagram last week. It is possible to see two sonogram photos of her unborn child. Another photo shows her 20 week baby bump.
Both sisters supported their brother during their talk with Kelly nevertheless they called his actions "very wrong". Jessa shared with Kelly that she will speak up in her brother's defense. She does not consider Josh to be a paedophile, a child molester or a rapist, as some people say. The woman considers this to be a lie. Jessa assures that she can say this as she was one of the victims and knows better.
2015-06-17