Anniversary Date of George Clooney and Amal Alamuddin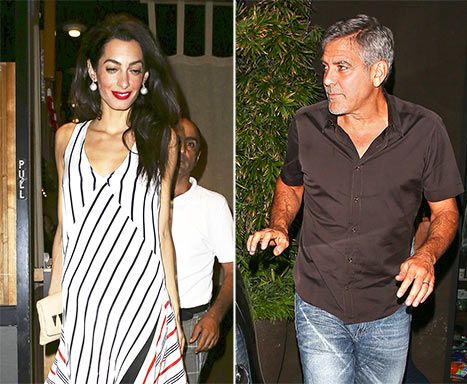 George Clooney and Amal Alamuddin, his wife, still have that glow of new weds. They were spotted at a dinner on September 25 in L.A.
The couple's anniversary was on September 27. Probably the Friday dinner was an early celebration of it. Both of them were in casual outlooks. They dined at Asanebo Japanese restaurant in the Studio City. That's not far from Los Angeles.
The 37-year-old British attorney put on an asymmetrical stripped dress by Tome. She accessorized it with rope wedges, a neutral clutch and huge drop earrings.
The 54-year-old Oscar winner and the human rights lawyer got married at Venice's Aman Canal Grande Hotel in 2014.
Back in May Clooney shared with Entertainment Tonight that Amal is an amazing and caring woman. The actor admitted that she is the smartest person he has ever met. Besides, his wife has got a great sense of humour. That is why he has plenty of reasons to feel in love.
The star adds that his wife has always had insanely eccentric, but fun, sense of fashion. He wonders how Amal is able to do it while working on eleven cases. Clooney is fascinated to watch all that as Alamuddin has such a great taste.
2015-09-28