Angelina Jolie Screens Unbroken in the Vatican and Meets the Pope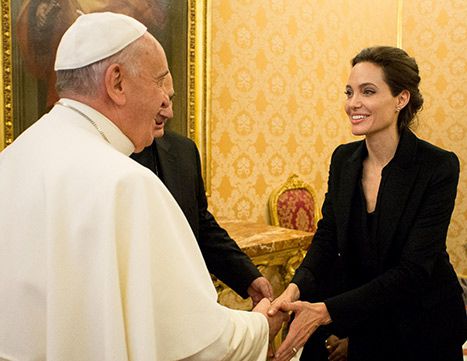 Angelina Jolie hosted a special screening of her film Unbroken in the Vatican and had a meeting with Pope Francis on Thursday.
The head of the Catholic Church has invited the actress to the Vatican and asked her to screen the film for the Pontifical Academy of Sciences. Angelina was delighted to get this invitation.
Jolie states in Us Weekly that it is an honour to be invited with her film to the Vatican. She also adds that it is a huge tribute to the story told in the film. The actress stresses that the story of Lois, the main hero, is a great example of forgiveness and strength.
Universal Pictures Italia announced that Pope Francis is aware of the breath-taking life story of Lois Zamperini and is expected to attend the screening at the Casina Pio IV, central body of the Pontifical Academy of Social Sciences and Pontifical Academy of Sciences.
Chancellor of Pontifical Academy of Sciences added that Jolie was a leader and a significant help for people through her work at the United Nations Organisation. He told that the film of Brad Pitt's wife made a great impression on the viewers. Moreover, he stated that the film is very strong and significant.
The actress hosted the high-profile screening alongside Luke, son of Zamperini.
Angelina Jolie has also brought her eldest daughters Shiloh and Zahara to Rome. They were seen having a good time together at the Piazza Navona, a local toy shop.
2015-01-09