Angelina Jolie and Brad Pitt visited Vietnam before the Holiday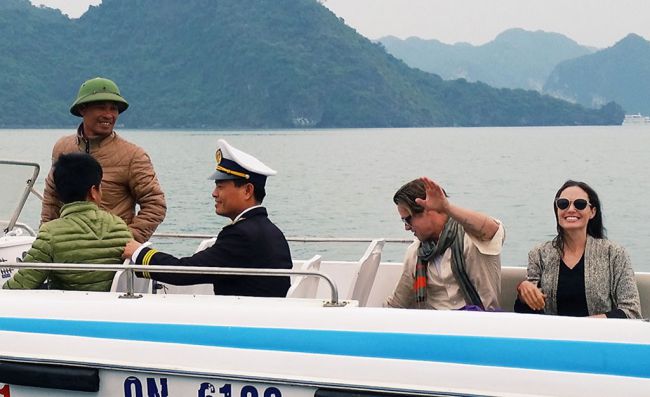 Angelina Jolie and her husband visited Vietnam for a short romantic getaway.
Vietnam is the birthplace of Pax, their 12-year-old son. In case you have forgotten, Angelina Jolie and Brad Pitt have 6 kids. Pax was adopted in 2007. The couple has already visited Pax's country a few times. The 40-year-old actress and her 52-year-old husband could be seen in Hanoi, the capital of Vietnam, accompanied by several men. They were sailing on a speedboat and kayaking in Ha Long Bay.
The couple chose casual clothes, sunglasses and lots of smiles.
The couple and their children were noticed not far away from Cambodia last week. It is the birthplace of Maddox, their 14-year-old kid. Their eldest child was adopted in 2001.
We remind you that Jolie is a director of a Netflix film. It is based on the First They Killed My Father: A Daughter of Cambodia Remembers, a Loung Ung's memoir. Ung is a human rights activist. The memoir is about her experience as a child soldier at the time of Khmer Rouge regime (in the "70s). By the way, this July Netflix stated that Maddox will take part in the production.
The actress says she was deeply affected by the memoir. The star's understanding of how kids experience war and how they are emotionally affected by it was deepened forever. The book helped Angelina to draw closer to the people of her son's homeland, Cambodia.
2015-12-24