Alyssa Milano is not satisfied with Heathrow Airport which confiscated her Breast Milk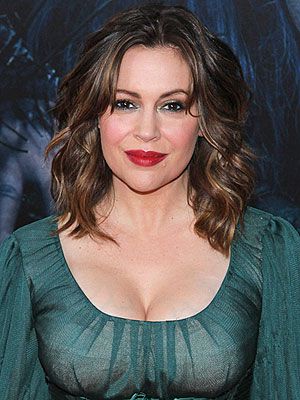 Alyssa Milano changed her attitude to Heathrow Airport in London when security confiscated her bottles of breast milk.
Let us remind you that Alyssa is mom to a 3.5-year-old Milo Thomas and a 7-months-old Elizabella Dylan. Nine hours after a difficult flight she wrote on Twitter. The star expressed her sadness because her hard work was not evaluated.
The 42-year-old actress wrote that 10 ounces of her breast milk were simply taken away at Heathrow Airport. That is not okay.
The security insisted that they would have let the pumped milk through only if the star had taken the baby with her. Alyssa Milano was incensed. If she had the child with her why would she need to do the pumping?!
The actress wrote on Tweeter that the airport wanted to test her toiletries and threw out her milk, but not her shampoo. Milano insists she had less than 5 ounces per each container.
Finally the furious mom even offered a solution to the policy of the airport. The star would have pleasantly spread the milk in different containers in order to fulfil all the liquid rules.
She explains that the milk was simply taken away while lotions and shampoo were just tested and given back. Milano considers this does not make any sense.
It did not take a while for Heathrow to respond the star on Tweeter. It was written that the government demands that all liquids in carry-ons must follow the 100 ml rule if the child is not present.
2015-04-10