A Fan Threw his Phone at Ariana Grande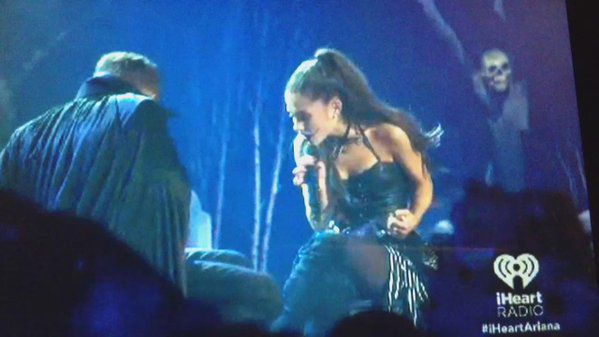 Ariana Grande avoided collision with a phone thrown at her in California this Friday. A spectator threw the missile at the stage.
The singer presented her audience the first performance of her latest song. It is called Focus. The event took place at the iHeartRadio Theater (Burbank). She was answering different questions after the Halloween gig where she appeared as The Nightmare Before Christmas character Jack Skellington, but in a female guise.
Though, the chat session had to be interrupted for several minutes as a smart phone was thrown at the star. Thankfully, no one was hurt. The songstress managed to dodge and then brushed off the incident.
Ariana uploaded a video online. She could be seen asking if someone has just thrown a cell phone at her. She notices that it is very dangerous as the screen of the owner's phone could crack.
As to the owner, he received his phone back and the star warned that it is important to be more careful.
However, nobody knows if the admirer threw the phone intentionally or if it had just fell out of his hands while the fan was waving in excitement.
2015-11-03